Tension and Compression Exhibit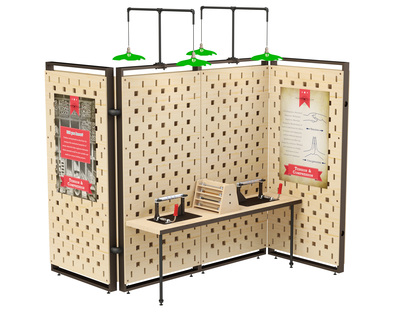 Steel, rubber or spring loaded tensioning bar. Select a material to test the strengths of each one and decide which will work for your bridge or other building project.
Exhibits Intended Use
With our STEM exhibit, children can explore how different material properties can affect the design of a structure. Whether that structure is a bridge, skyscraper or even playground equipment. Hands on time with the exhibits encourages thinking about the good and bad aspects of a materials properties.
2X Black Rubber Tensioner
2X Custom Aluminum Spring Loaded Tension and Compression
2X Braided Steel Tensioners
2X Steel Rod Tensioners
2X Handles
1X Built in Wood Materials Holder
2X Built in Steel Testing Assemblies
Optional Accessories
Recommended for this exhibit:
2X Double Pendant Lights
2X Extra Tension Materials
2X Pre-Designed Interpretive Graphics Panel
2x 17" Stools
2X Extra Aluminum Tensioner Clips to Select New Materials
Assembly
Most exhibits' assemblies range from $1,500 to $2,500 within the continental US. We are open to creative planning and solutions, please call to discuss the best option for your center.
Shipping
Most single exhibits ship within the continental US from $300 to $1,000. Save on shipping by bundling.
Photo Gallery
---