Shake Table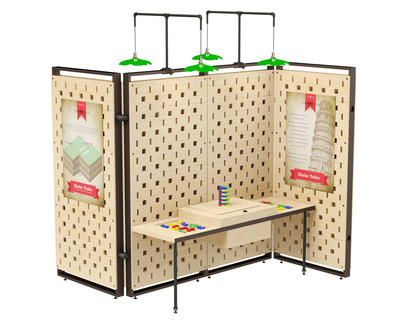 Children are given the opportunity to learn about the following earth science and engineering concepts related to the FLEXHIBIT STEM Shake Table Interactive:
Earthquake Engineering Concepts: Engineering principles required to build a structure that survives an earthquake; foundation, height-base ratio, symmetry and truss.
Earth Science Concepts: Earthquakes are caused by motion on fault lines or breaks in the crust, plate tectonics and how major geological events affect the earth's structure.
Science of Waves: The energy released by the movement of the earth's plates along fault lines causes the seismic waves and what causes wave frequency to increase.
Scientific Testing: Analyze data from shake tests to determine similarities and differences between building designs to develop the best building practices for structures to withstand earthquakes.
STEM Careers associated with the concepts learned from interacting with the FLEXHIBIT STEM Shake Table Interactive:
Seismologist - Geologist - Earth Scientist - Geophysicist - Volcanologist - Civil Engineer - Structural Engineer
Intended Use
The user can either build a structure from the building blocks provided or select a demo unit such as the sublimation unit. After construction the user then presses the button to start the earthquake. During the earthquake the user can vary the intensity of the seismic waves through by adjusting the potentiometer.
| | |
| --- | --- |
| 1X | Shake Table Exhibit |
| 50X | Blocks |
| | |
| | |
| | |
| | |
Optional Accessories
Recommended for this exhibit:
| | |
| --- | --- |
| 2X | Single Pendant Lights |
| 2X | Pre-Designed Interpretive Graphics Panel |
| 2X | 17" Stools |
| 1X | Extra Green Button |
| 1X | Surge Protector |
Assembly
Most exhibits' assemblies range from $1,500 to $2,500 within the continental US.
We are open to creative planning and solutions, please call to discuss the best option for your center.
Shipping
Most single exhibits ship within the continental US from $300 to $1,000. Save on shipping by bundling.
Photo Gallery
---