Sail Cars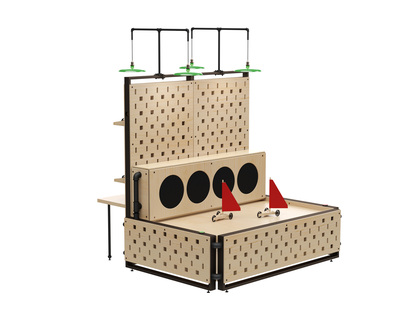 All of the sailing, none of the water! Did you know the best angle to sail into the wind is at 45°? The vessel must zig-zag, or "tack", from starboard to port to reach a destination from which the wind is blowing.
Intended Use
The user approaches the exhibit and selects a sail car chassis and sail from the available shapes and sizes. The user then places the sail car on the sail platform choosing a sail angle and presses the green button to turn on the fans for a preset length of time (0-128 second range).
Experiment with different sail sizes, shapes, and tacking angles to discover which combinations sail the fastest, or try to get a car to sail "against the wind."
1X Sail Car Exhibit




4X Sail Car Shelf




2X Sail Rack




8X Sail Car Chassis




4X Sail - Large SQ.




4X Sail - Small SQ.




4X Sail - Large Tri.




4X Sail - Small Tri.




2X Wall Panels



The sail car exhibit as seen (without overhead lighting, or graphics).
Optional Accessories
Recommended for this exhibit:
Assembly
Most exhibits' assemblies range from $1,500 to $2,500 within the continental US.
We are open to creative planning and solutions, please call to discuss the best option for your center.
Shipping
Most single exhibits ship within the continental US from $300 to $1,000. Save on shipping by bundling.
Photo Gallery
---